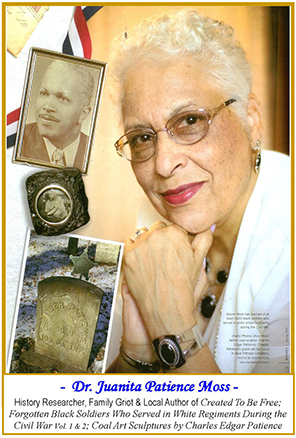 Photo: By Howard Korn and Kim Bowser Spence Wilkes Magazine / Spring 2007
Dr. JUANITA PATIENCE MOSS, family griot, educator, author and presenter is the daughter of the late Cora and Charles Edgar Patience, a renowned anthracite coal sculptor from northeastern Pennsylvania. After graduating from West Pittston Public School, she attended Bennett College in Greensboro, N. C., Alma Mater of her step-mother, Alice Patterson Patience. She received a B.S. degree from Wilkes University, Wilkes-Barre, Penna.; a M.A. degree from Fairleigh Dickinson University, Rutherford, N.J.; and was awarded an Honorary Doctor of Humanities from King's College, Wilkes-Barre, Penna. in 2011.


After retiring as a New Jersey high school biology teacher, she developed an interest in genealogy which led her to research Black Civil War soldiers whose service in white regiments previously had not been documented. She has written four books on the subject: Created to Be Free; Battle of Plymouth, N.C., April 17-20; 1864: The Last Confederate Victory; and two volumes of Forgotten Black Soldiers Who Served in White Regiments During the Civil War.

Later she would write Anthracite Coal Art By Charles Edgar Patience and compile three volumes of Tell Me Why Dear Bennett, memoirs of Bennett College alumnae.


Her ninth book, Deeply Rooted in North Carolina, was written in 2018 when Dr. Moss found via 23andMe, several Edenton, N.C., cousins. After several months of collaboration, they were able to discover the names of several shared ancestors, including the brothers Crowder and Thomas Patience, both soldiers in the Union Army during the Civil War. Presently, the cousins are formulating plans to place a monument in Edenton, N.C., to honor the two veterans.

On the front cover of Deeply Rooted in North Carolina, artist Joel Ulmer of Washington, D.C. has depicted on the left, the younger Crowder who enlisted in the 103rd PA Volunteers, a white infantry regiment garrisoned at Plymouth, N.C. The artist has depicted Thomas as a member of the 5th MA Colored Cavalry, one of the four segregated regiments allowed to keep their state's designation prior to the organization of the United States Colored Troops (U.S.C.T.).

Sadly, after absconding from slavery, the two brothers never saw each other again. After the war Thomas returned home to Edenton while Crowder traveled with his regiment to Pennsylvania where he remained for the rest of his life. Not until 154 years later have curious descendants of both brothers discovered each other.

Dr. Moss is a member of the Alfred Street Baptist in Alexandria, Va.; the Northern Virginia Chapter of the Bennett College Alumnae; the Northern Virginia Chapter of Delta Sigma Theta, Inc.; West Pittston High School Alumnae Association; NAACP; Afro-American Historical and Genealogical Society (AAGHS); Association for the Study of African American Life and History (ASALH); the Washington County (N.C.) Genealogical Society; and a charter member of the Smithsonian Museum of African American Culture and History.

She was married to the late Edward Irving Moss for sixty-two years and is the mother of Brenda Moss Green, Esq. and Eric Douglas Moss. Also, she is the grandmother to two grandsons and four granddaughters.

Dr. Moss is available for Power Point lectures, book signings, and exhibits with her father's anthracite art. She also presents the life of Harriet Jacobs, an escaped slave from Edenton, N.C., the same town from which Dr. Moss's great grandfather had escaped before enlisting in the Union Army.